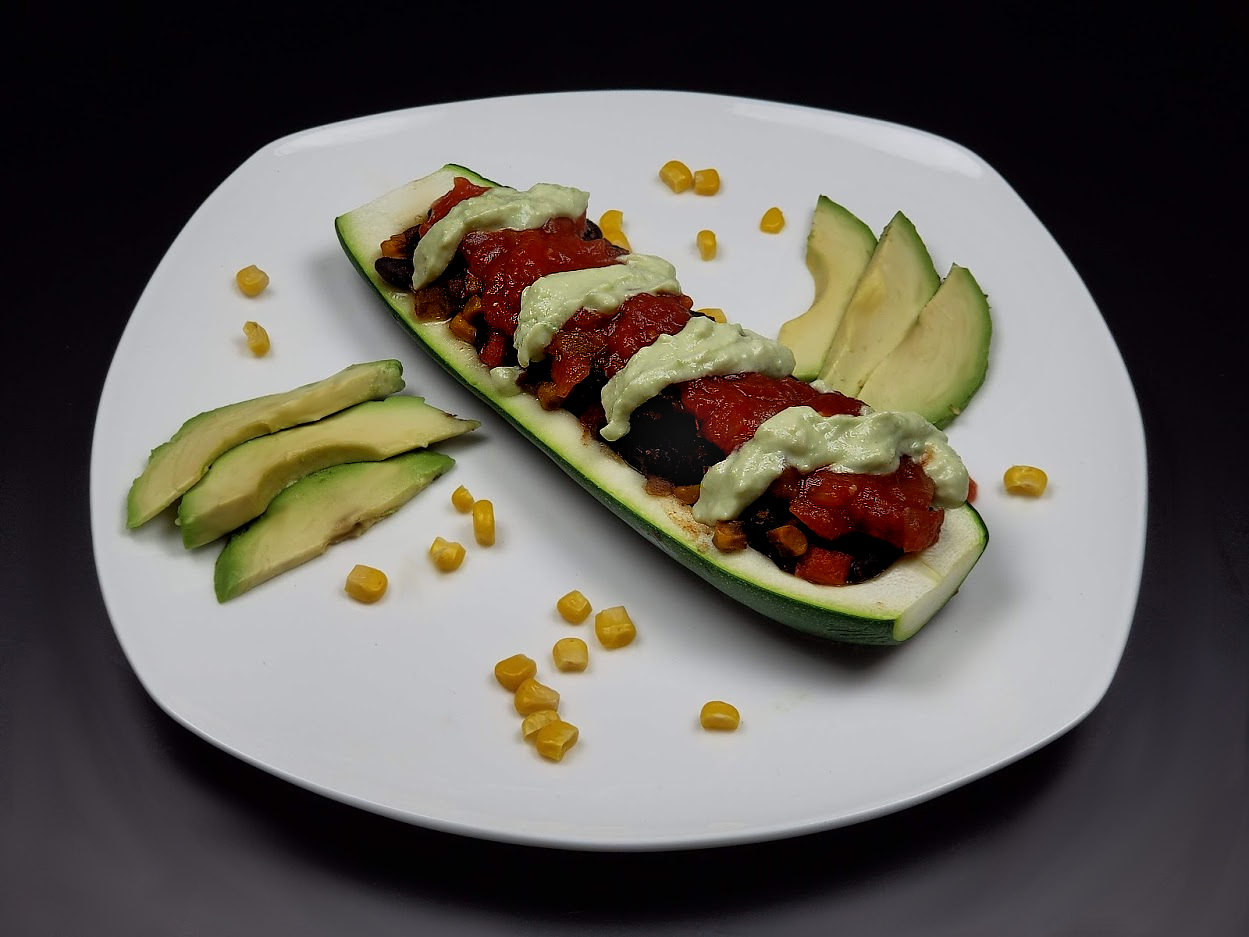 Yield: 2-4 servings Prep Time: 10 minutes Cook Time: 35-45 minutes Total Time: 45-55 minutes

Ingredients:

2 large Zucchini ½ bell pepper ¼ onion ½ 15oz can of corn ½ tsp paprika 1 ½ tsp cumin ½ tsp garlic powder ½ tsp dried coriander 1 15 oz can of black beans 1 tsp chili powder Oil Salt Salsa Cheese (optional) ½ Avocado 1 tbsp Lime Juice 2 ½oz plain Greek Yogurt (This can be substituted for Vegan sour cream or yogurt.)

Directions:

Preheat the oven to 350 degrees. Cut the ends of the zucchini. Slice them in half. (You can slice a piece off the bottom of each to make them sturdier for the oven later.) Scoop out the inside. Not too much! Dice the pepper and onion. Sauté the pepper, onion, and corn at medium heat with oil. Add the spices to the pan. Sauté for about 5 minutes. Rinse and drain the black beans. Add the beans to the pan. Sauté for 4 minutes. Place the Zucchini on a cookie sheet lined with parchment paper or a baking dish. Spoon the mixture from the pan into the zucchini boats. Bake for 25-30 mins. Mix avocado with lime juice and Greek yogurt. Plate the zucchini boats and top with salsa, cheese (optional), and Avocado Lime Sauce. Enjoy!