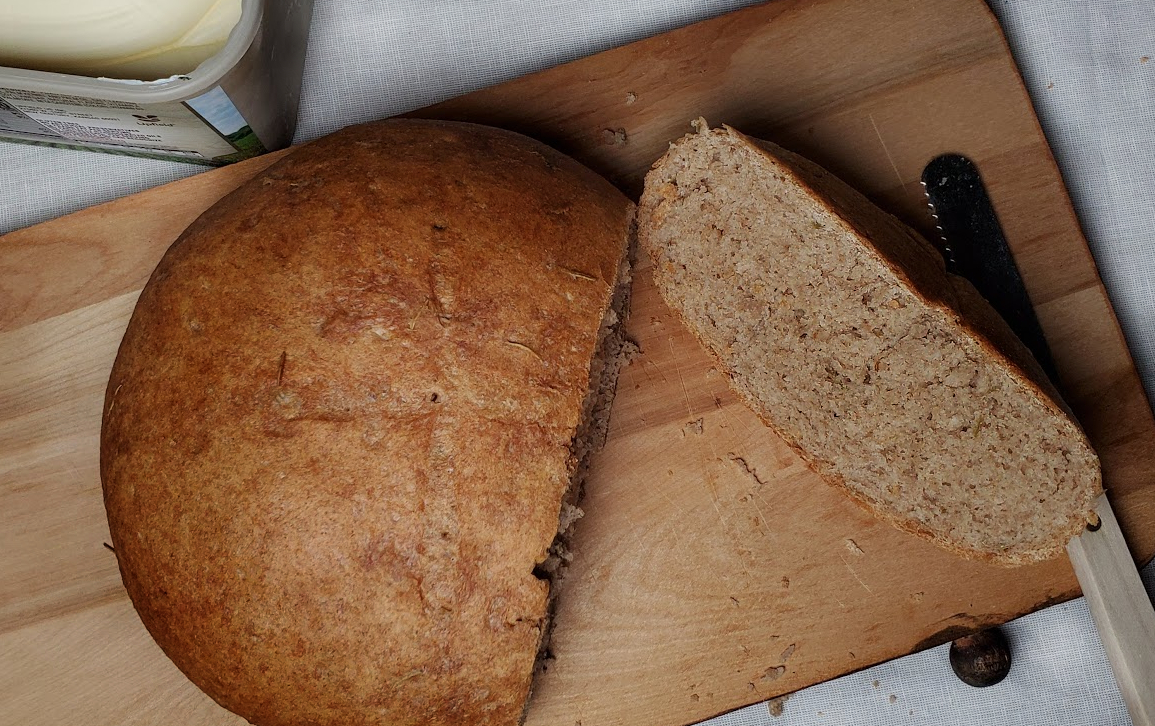 Yield: 1 Loaf Prep Time: 135 minutes Bake Time: 40 minutes Total Time: 175 minutes

Ingredients:

2 cups Whole Wheat Flour 1½ cups Bread Flour 2¼ tsp Dry Active Yeast 1 tsp Sugar 1¾ cups Warm Water 1 tsp Salt 2 tbsp Rosemary

Directions:

Mix yeast, sugar and 1 cup of water in a cup or small bowl. Let that sit for a few minutes. Mix both flours, salt and rosemary in a large bowl or stand mixer. Once the yeast becomes foamy, add the yeast mixture and the rest of the water to the flour mixture. Mix until it forms a slightly sticky ball of dough. Knead for about 3 to 5 minutes. (I did this right in the bowl.) Shape the dough into a ball and place in an oiled bowl. Cover it and leave at room temperature for 90 mins. (If the dough isn't rising fast enough, you can preheat the oven and place your bowl on the stovetop.) After you wait 90 minutes, Punch the air out of the dough and shape it back into a ball. Place the dough ball on a lined baking sheet. You can now score the dough. Cover the dough and let sit for another 30 minutes. While you're waiting, preheat the oven to 400 degrees. After you wait 30 minutes, brush the top of the dough with oil and place in the preheated oven for 40 minutes. Take the bread out and let cool. Enjoy!