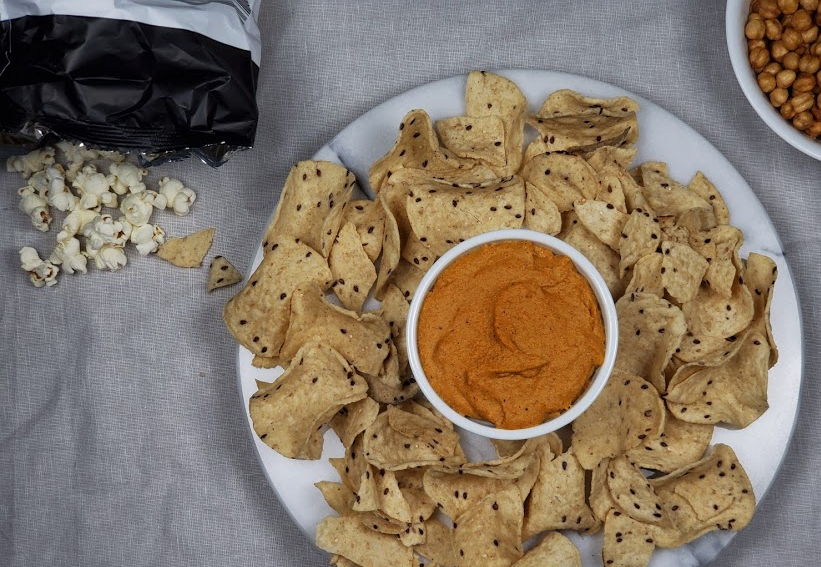 Yield: about 2 cups Prep Time: 10 minutes Cook Time: 18 minutes Total Time: 28 minutes

Ingredients:

2 peeled medium Yellow Potatoes (1 inch chunks) 1 Carrot (1 inch chunks) ½ Orange Bell Pepper 6 tsp Nutritional Yeast 1 tsp Garlic Powder 1 tsp Cumin 2 tsp Paprika 1 ½ tsp Onion Powder 2 ½ tsp Chili Powder 12 tbsp Water Salt Pepper

Directions:

Bring a pot of water to boil and preheat the oven to 450 degrees. Cut up the potatoes, carrot and bell pepper. For 15 minutes, roast the pepper in the preheated oven and boil the potato and carrot chunks. Drain the potatoes and carrots. Let everything cool for a few minutes. Blend together the potatoes, carrot, bell pepper, spices, nutritional yeast, and 12 tbsp of water. Once the mixture is smooth, pour it into the pot used earlier and reheat on low-medium heat for about 3 minutes. Enjoy with chips, veggies, etc.!